Cart (0)
Your cart is currently empty.
Evolve GTR Carbon Street e-Skateboard
See specifications
or buy now, pay later with
SHOP NOW
ENJOY NOW
PAY LATER
Pay it in 4 | Interest-Free
At checkout, select Afterpay
as payment method
Use your existing payment card
Simply complete your
checkout
No long forms, instant
approval online
Pay over 4 payments
Pay every 2 weeks, enjoy
your purchase right away
Notify Me When Available
FIND IN STORE
Check stock in store and select click & collect at the cart.
FREE SHIPPINGAustralian orders over $99
Description
In 2013 Evolve Skateboards designed the world's first carbon fibre electric skateboard and has maintained the gold standard since. The Carbon GTR is the epitome of sophistication in electric skateboard design, performance and build quality.
The legacy it upholds not only takes that performance down roads less travelled, it blazes a new path of its own. If Batman owned an electric skateboard, this would be it!
WARNING: The Evolve GTR and Stoke Series are high performance electric skateboards. It is strongly advised that children under 16 years, or new to electric skateboarding, only operate the boards under supervision with full safety gear including a helmet. FAST and GT mode offers performance capabilities not suitable for beginners and children AND can allow the rider to get in situations that may increase risk in operation. ie: GTR mode will fast allow the board to climb extremely steep hills that will be dangerous to ride back down, even when using the brake. While programming is in place to limit climbing of dangerous inclines, the rider must understand the power this board can offer must be respected for safe use.

Delivery
Free Delivery on all orders over $99 (excl. Super73). Orders under $99, a flat rate delivery charge of $8.50 applies.
All orders are dispatched with 24 business hours from our Gold Coast Showroom. 
Delivery times will vary from 2-5 business days for metro areas and 7-14 business days for rural and remote areas.
Returns & Refunds
Crooze is committed to 100% customer satisfaction, our 30-day returns policy is simple and You are always welcome to return any unused merchandise in its original condition within 30 days from purchase for an exchange, credit, or a full refund (shipping and Merchant fees excluded).
All you need to do is return your items to us, in original condition, for an exchange, store credit or refund.
Features
The Ride
The Tech
The Remote & App
What's in the Box?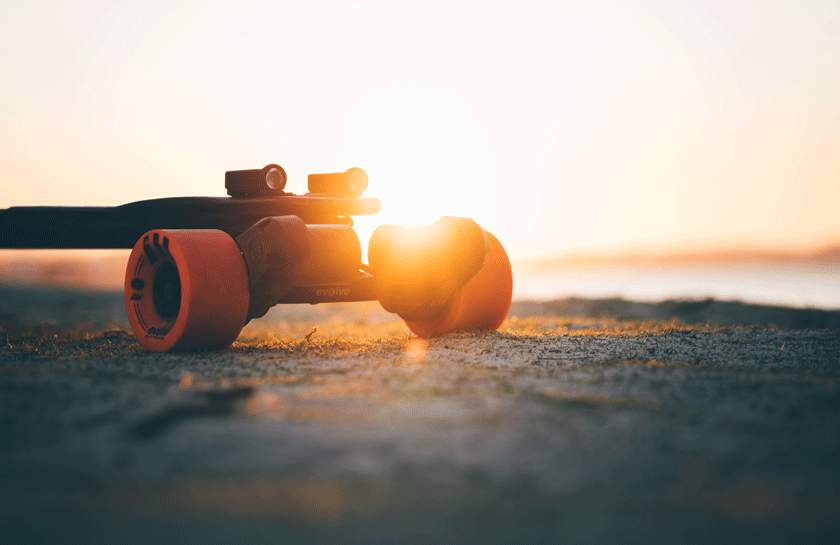 The Ride
If you've skated before you'll appreciate the pop in this deck thanks to our new relationship with one of the most premium deck manufactures in the skateboard world. The GTR deck is constructed of bamboo with the addition of fibreglass which puts you in the goldilocks zone for flex and strength. Adjust the truck position to make them closer or further apart to dial in your ride, just the way you like it. Whether you're into short and sharp or long and deep carving our bamboo deck has a classic longboard vibe and will give you a softer feeling under foot. But don't let that fool you, coupled with our pneumatic tyres this board is like a cheetah unleashed and will come alive when ridden on pretty much any terrain. From cruising scenic footpaths to shortcuts across huge fields, the Bamboo GTR All Terrain will eat any surface you throw at it. Looking for more of an adrenaline rush? Gravel tracks will become rally stages and that group of grassy hills will morph into a never-ending set of rolling surf breaks. This board will change the way you see the world and the paths you see in it.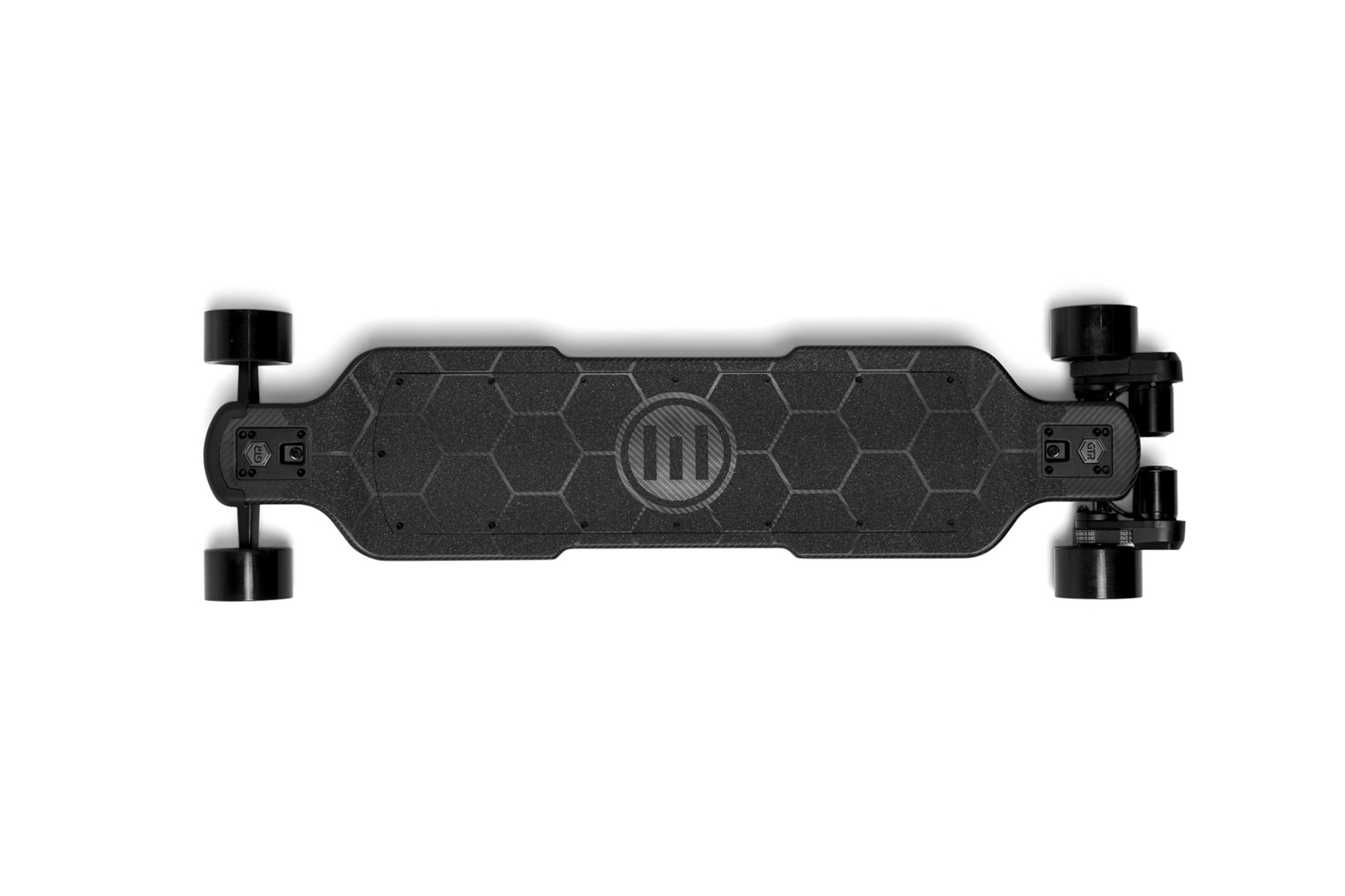 The Tech
Handmade from 100% Carbon fibre, the GTR deck beautifully conceals the electric system which is powered by our new patent pending Power Flex battery technology and the best 18650 lithium ion battery cells available. Providing you with real-world range of up to 50km per charge, this board will turn any road or path into the endless wave of your dreams. This coupled with Bluetooth communication is a game changer for Evolve skateboards as it provides instant power and ultra smooth acceleration and braking performance, placing the ultimate in intuitive riding control in your hands. With 3000 watts of twin brushless sensored motor power driving our new made in USA Evolve GT 97mm inline race formula wheels, this triple matte black beast is like a panther unleashed.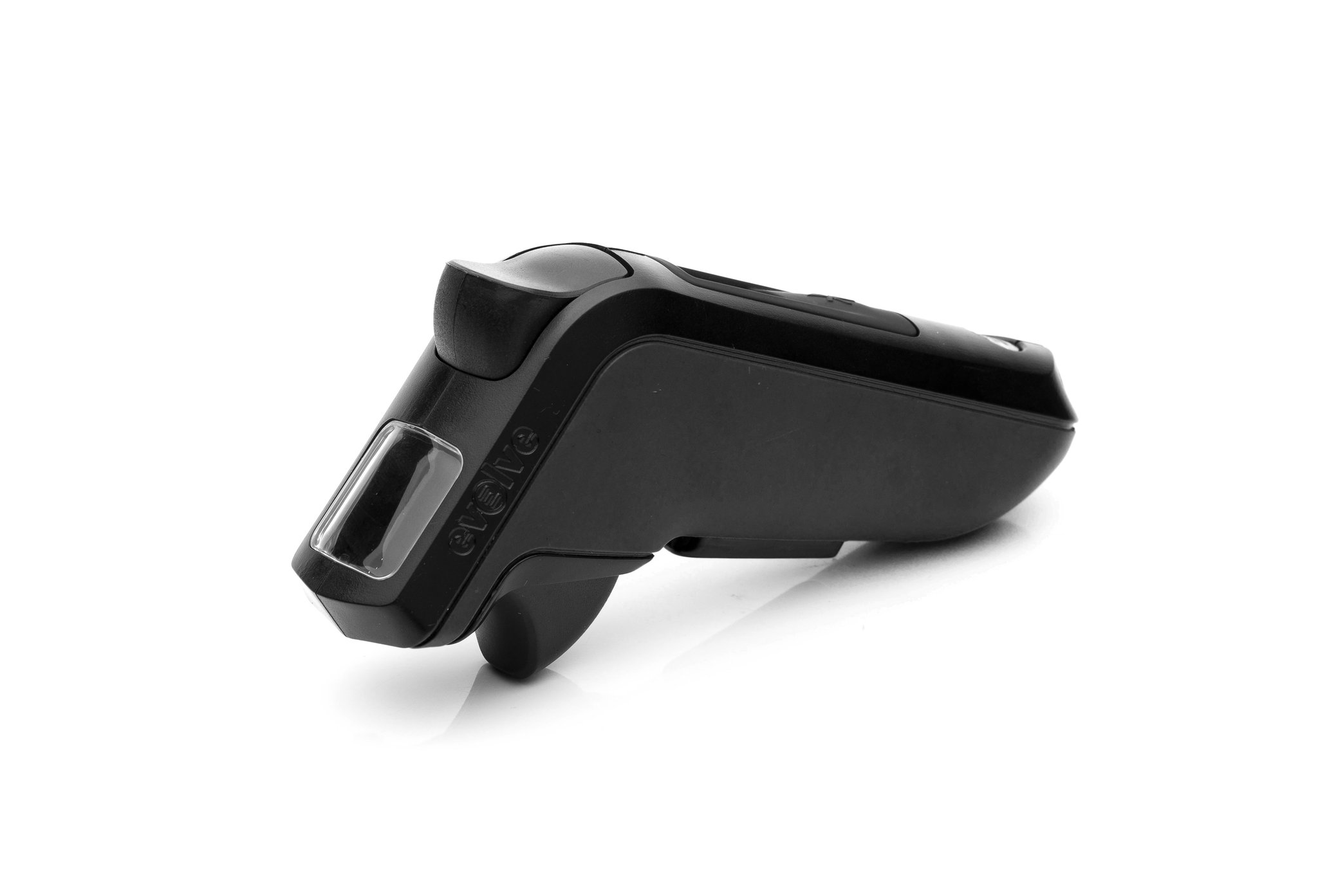 The Remote & App
The Evolve Carbon GTR Street offers more riding modes than ever before allowing riders of any level to safely enjoy the product and have the ability to adjust your riding mode while riding to suit conditions and maximise efficiency. Use 'ECO' mode for easy control and a safe top speed, perfect for beginners and those riders wanting a relaxed ride with longest ride times. Use 'PRO' mode to whizz past traffic and turn your commute into your daily adrenaline rush hour, and if you dare, switch to GTR mode to unleash insane power and acceleration with the ability to climb hills of up to 25% gradient. For those that want a power curve that is different to ECO/PRO/GTR modes, select CUST (custom) mode on the remote, then open up the Explore by Evolve app and dial in the power curve to suit your riding style. In this mode you can adjust the power to be weaker or even stronger than the stock speed mode settings that come with the R2 remote.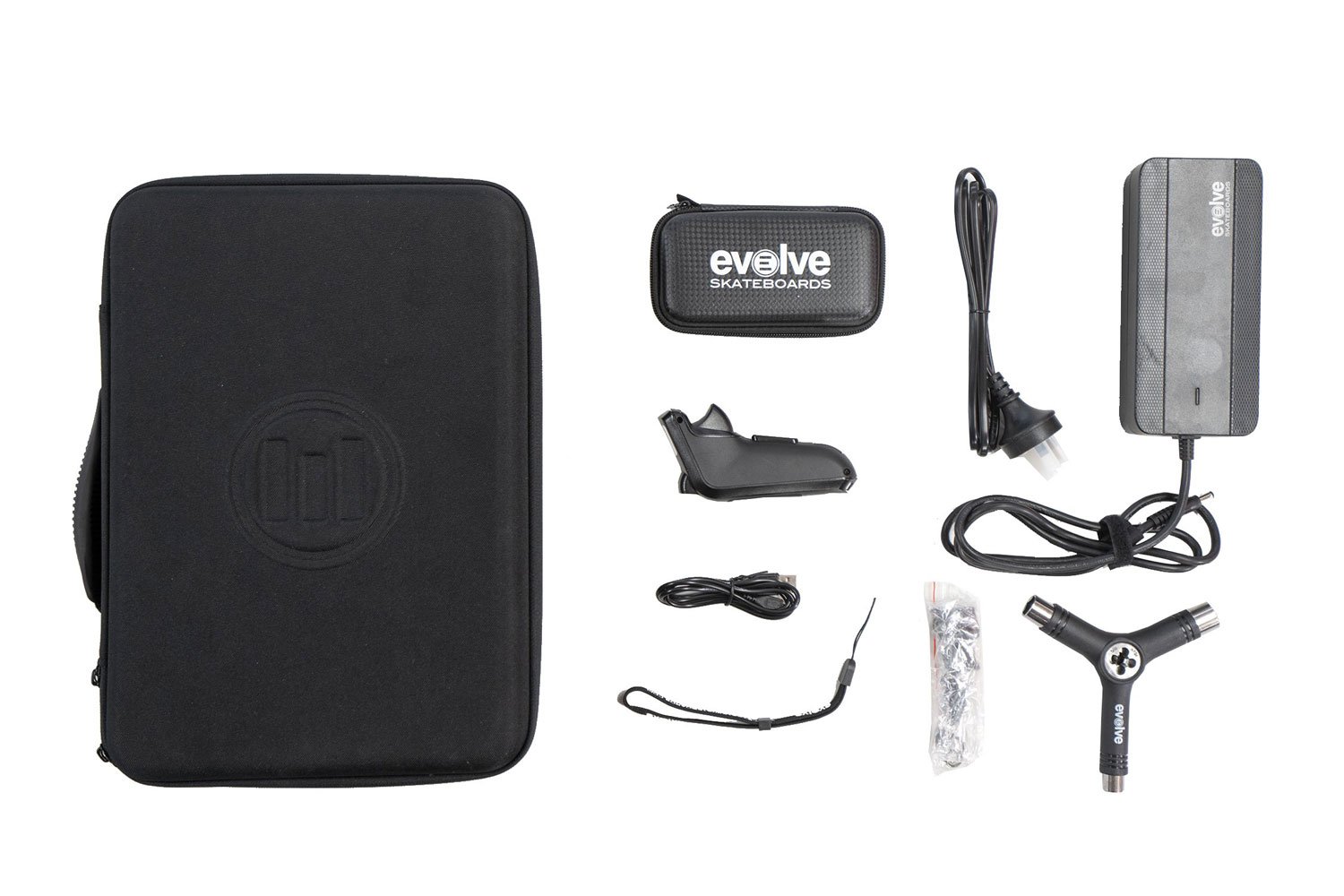 What's in the Box?
Fast charger | R2 Remote, leash, remote case and charging cable | Accessories carry case | Y tool | Spare screws set
Specifications
Aesthetics Triple matt black low profile techy look, the bat mobile of electric skateboards
Motor Dual 1500 watt (3000 watt total) high performance custom made brushless out-runner motors
Battery 14AH Samsung Lithium Ion battery with custom BMS (Patent Pending design). Travel Friendly 4.2AH Sony Lithium Ion with Custom BMS (Optional)
Range Up to 50km/31miles Standard and 15km/10 miles Travel Battery
Deck Material Highest grade Carbon Fibre. Each deck is hand made
Deck Length 39 Inches / 101cm
Trucks Forged / CNC Super carve 306mm/12inch width
Bearings Evolve Ceramic Precision Bearings
Recharge Samsung Battery is 4-5hrs with the standard fast charger. Sony Battery is 1.5-2hrs with the standard fast charger
Remote Patent pending R-2 Remote, Bluetooth control, instant trigger response, super smooth control
Wheel Base 37inches / 94cm
Wheels Made in USA Evolve GT 97mm 76A (Black)
Top Spead Approx 42km/h / 26mph. Speed will reduce as voltage decreases
Suitable Terrain Smooth bitumen roads/footpaths/concrete
Hills Up to 30% gradient in GTR mode (insanely STEEP!)
Brakes Ultra smooth stepless braking control with regenerative recharging
Max Load 100 kg / 220 lbs

Weight 9.8kg/21.5LBS with standard battery and 8.4kg/18.5LBS with travel battery

*Care is taken when providing product specifications. Occasionally, without notice manufactures may alter product design or specifications.
Load more specifications
See less