Cart (0)
Your cart is currently empty.
OneWheel Pint Bumpers
See specifications
Notify Me When Available
Seen a lower price? contact us
Description
Life is hard - sometimes you need Bumpers to take the brunt of it. These high-density Bumpers are ready for anything you throw at them. Pint Bumpers are easily swapped out so grab yourself an extra pair.
Plus, Pint Bumpers come in a host of colours so you can mix and match to create the board that feels like you.
Note: One Pint Bumper order includes two (2x) bumpers. Dark Grey Pint Bumpers come included with the purchase of a Pint.
Delivery
Free Shipping on orders over $99 (excludes some large/oversized items). 
Same Day Dispatch on orders before 3pm (excludes bikes).
Delivery times will vary from 2-5 business days for metro areas and 7-14 business days for rural and remote areas.
Returns & Refunds
For more information on our refund policy please check below.
Features
What Is In The Box?
Questions and Answers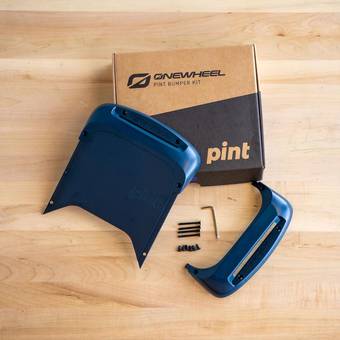 What Is In The Box?
1x set of Pint Bumpers (2 pcs.), Installation tool and screws
Questions and Answers
Q: Should I be worried if my bumpers get scratched up? A: Nope! That's their job! They take a beating so the rest of your board doesn't have to. Q: How often should I swap out my bumpers? A: It's a good idea to swap your bumpers out when the plastic is wearing down to the level of the screws. Most folks like to swap their bumpers out about once a year but some like to keep them fresher than others.