Cart (0)
Your cart is currently empty.
Description
The perfect bundle for premium bike care. Ideal for Road Riders, Mountain Bikers and E-Bike Riders. From novices to professional riders, this bundle accommodates the needs of every rider with the highest performing products on the market.

Enhance every toolbox with this 8 piece Deluxe Bundle of cycling tools, cleaning products and innovative lubricants.

Covering all weather conditions with the world first Tungsten lubricants, complemented with state of the art cleaning products to provide every biker with the perfect platform to clean, protect and lubricate their bike. Ideal for road bikes, mountain bikes and E-Bikes.

Don't just take our word for how good the lubes are, check out the data below!

Contains:
1 x Monkey Juice 1L
1 x Monkey Juice Concentrate Gel Sachet
1 x Tungsten All-Weather Lube
1 x Tungsten Wet Lube
1 x Drivetrain Cleaner
1 x Muck Monkey Chain Brush
1 x Cycle Maintenance Spray
1 x Brake Cleaner
*Gift box may vary slightly in design and colour due to high demand

Revolutionary cycle technology to clean, protect and effectively lubricate any road or mountain bike.

Monkey Juice Gel Bike Cleaner is a specifically formulated degreaser designed to instantly lift and remove stubborn dirt and grime generated from riding.

Drivetrain Cleaner instantly blasts away contaminants on the chain and chain rings to effectively eliminate grease and grime. It also protects using our in house designed moisture repellent formulation and rust inhibitors to keep moving components in optimum working condition.

The Tru-Tension Tungsten lubricants are the world first cycle lubricants of their kind. Revolutionising lubrication in the cycling industry through faster, harder wearing lubrication for any weather. Up to 40% faster than standard Ceramic and Teflon based lubricants, our lubricants are the perfect selection for riders looking for a smoother ride and improved efficiency.

Don't just take our word for it, check out the endurance data below provided by world renowned and fully independent test facility Zero Friction Cycling in Australia. Tungsten All Weather Lube is the only standard drip application lubricant to ever make it past 5,000km of extreme contamination testing without exceeding wear tolerance.

Nearly double the lifespan of chain and rings for dry, dusty or gravel conditions compared to other brands.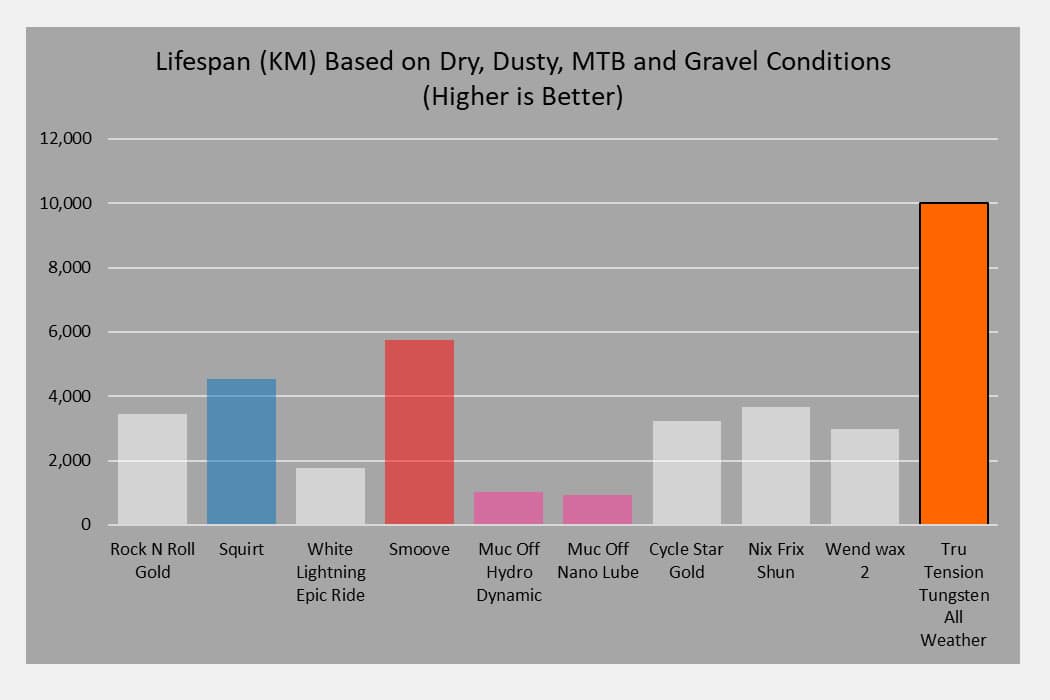 Less than half the chain wear compared with most brands in sandy and muddy conditions and extensively better than others

Maintenance Spray does exactly what it says on the tin, loosens stiff components, lubricates, repels water, protects and prevents rust. Ideal for general maintenance and protection during the winter months.

Our specially formulated Brake Cleaner is designed to rapidly remove dirt, dust, carbon and oil build up on all braking components, leaving you with the optimum braking performance for your bicycle. Its quick dry action allows you just enough time to wipe away any residual dirt for prime stopping power.

How to use your Tungsten Bundle
Step 1:
Spray bike with Monkey Juice and rinse away grime.
Step 2:
Blast away dirt on your drivetrain with Drivetrain Cleaner
Step 3
Apply a fresh coat of Tungsten Lubricant - Shake well before use
Step 4:
Allow to dry for 5 minutes before riding.
Step 5:Apply as needed for continuous lubrication and protect.

Important: Avoid contact with braking components. Keep out of reach of children."
Delivery
Free Delivery on all orders over $99 (excl. Super73). Orders under $99, a flat rate delivery charge of $8.50 applies.
All orders are dispatched with 24 business hours. Order before 2pm and your order will be shipped same day.  
Delivery times will vary from 2-5 business days for metro areas and 7-14 business days for rural and remote areas.
Returns & Refunds
For more information on our refund policy please check below.