Cart (0)
Your cart is currently empty.
Description
A brilliant premium cleaning and lubricating bundle for any road rider, mountain biker or e-bike rider.
Our Tungsten lubricant is proven to significantly reduce the wear on drivetrains compared to any other drip lubricants on the market.

Upgrade any cycling toolbox with this premium 5 piece Tungsten Bundle. Perfect for any rider from seasoned riders to new cyclists and racers alike.

Combining the world first and patent-pending Tungsten lubricants with state of the art cleaning products provide every biker with the perfect platform to clean, protect and lubricate your bike. Ideal for road bikes, mountain bikes and E-Bikes.

Contains:

1 x Monkey Juice 1L (Empty)
1 x Monkey Juice Sachet
1 x Muck Monkey Chain Brush
1 x Tungsten All Weather Chain Lubricant
1 x Drivetrain Cleaner
1 x Tru-Tension Presentation Box

Revolutionary cycle technology to clean, protect and effectively lubricate any road bike, mountain bike or e-bike.

Monkey Juice Gel Bike Cleaner is a specifically formulated degreaser designed to instantly lift and remove stubborn dirt and grime generated from riding.

Drivetrain Cleaner instantly blasts away contaminants on the chain and chain rings to effectively eliminate grease and grime. It also protects using our in house designed moisture repellent formulation and rust inhibitors to keep moving components in optimum working condition.

The Tru-Tension Tungsten lubricants are the world first cycle lubricants of their kind. Revolutionising lubrication in the cycling industry through faster, harder wearing lubrication for any weather. Up to 40% faster than standard Ceramic and Teflon based lubricants, our lubricants are the perfect selection for riders looking for a smoother ride and improved efficiency.

Don't just take our word for it, check out the endurance data below provided by world renowned and fully independent test facility Zero Friction Cycling in Australia. Tungsten All Weather Lube is the only standard drip application lubricant to ever make it past 5,000km of extreme contamination testing without exceeding wear tolerance.

Nearly double the lifespan of chain and rings for dry, dusty or gravel conditions compared to other brands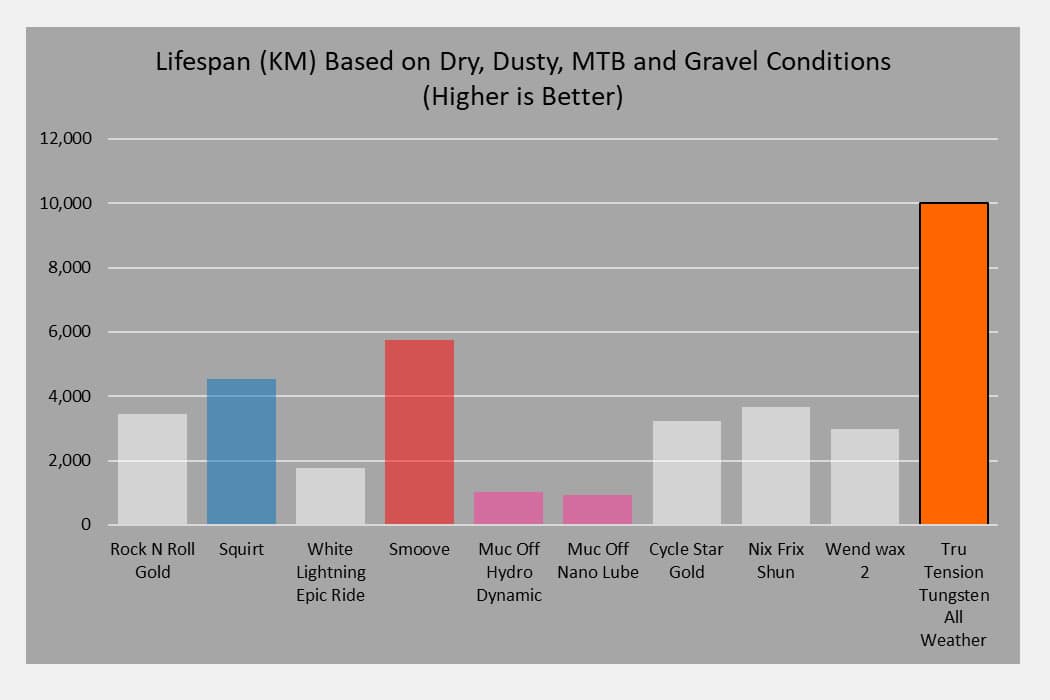 Less than half the chain wear compared with most brands in sandy and muddy conditions and extensively better than others

Monkey Juice Concentrate Sachet has been designed to reduce the use of plastics and save money for every rider. Rather than buying a new bottle every time you've run out of cleaner, simply fill your Monkey Juice bottle to the refill line (800ml), pour in the concentrate and shake. Boom, you've got a second bottle of the innovative gel cleaner!
How to use your Tungsten Bundle
Step 1:
Spray bike with Monkey Juice and rinse away grime
Step 2:
Blast away dirt on your drivetrain with Drivetrain Cleaner
Step 3:
Apply a fresh coat of Tungsten Lubricant - Shake well before use
Step 4:
Allow to dry for 5 minutes before riding.
Step 5:
Apply as needed for continuous lubrication and protect
Important: Avoid contact with braking components. Keep out of reach of children.
Delivery
Free Shipping on orders over $99 (excludes some large/oversized items). 
Same Day Dispatch on orders before 3pm (excludes bikes).
Delivery times will vary from 2-5 business days for metro areas and 7-14 business days for rural and remote areas.
Returns & Refunds
For more information on our refund policy please check below.